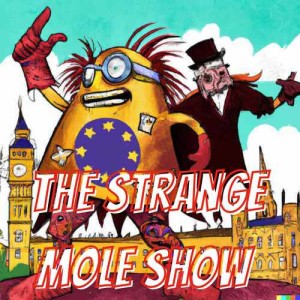 Monday Apr 26, 2021
Text, Text, Nudge Nudge - The Strange Mole Show Episode 5 - 26th April 2021
Hello there and welcome to the Fifth Comedy episode of Doc Strange and the Dude, "The Strange Mole Show" - Text, Text, Nudge Nudge - The Strange Mole Show Episode 5 - 26th April 2021
What a couple of weeks we have had since Episode 4 Snidey Cuts and Bruises
Ironically, that thanks to him, extra thousands of deaths AND a third lockdown because he didn't listen to the science, again.
Anti Mask, Covid Denying, Thick as Mince, Tory Voting, Brexit Loving Flag Shaggers have been out in force. Beating up the Police!
Boris Johnson Texts from James Dyson asking for Tax breaks for Ventilators, which were never made or supplied.
Boris Johnson claims he paid for the hidious make over at number 10 and not from donations. Coming from the man who said he didn't get paid enough to live on.
Wasted £2.1m on breifing room that now won't be used and built by Russia.
Cummings is ratting out Boris Johnson because the powers that be want Gove to be PM. Which will lead to Freeports becoming Charter Cities and your rights will mean diddly squat.
Basically, it's all about Johnson, the Liar, the Fraud, The Adulterer, Tax Avoider, Murderer and floppy headed, squinty eyed Devil that he is. 
There's Nothing Funny about any of it, but we've tried, Enjoy the show!
www.StrangeMole.co.uk        @StrangeMoleShow
Written by Holy Mole,
Performed by Holy Mole, Chris Doc Strange and Chrissie Grech
Please Share if You Enjoy our idea of a Satirical Comedy Sketch Show. Thanks for listening.
WARNING: The Police are "Just Following Orders" from Priti Patel (Histroy will remember that name. Not in a good way.)
Listen to the Podcast and give us your feedback.
* * * * * * * * * * * * * * * * * *
I have #3Point5Percent Vinyl stickers available.
Free & Fast, Signed for UK Post - 14 Day No Quibble Returns. LOVE THEM or Return Them. No Questions Asked.
https://ko-fi.com/s/243b81c2b5
#ThreePointFivePercent #Resist #Revolt #Remove #ToriesOut #ToryLiars #Brexit
* * * * * * * * * * * * * * * * * *
Writers and Performers VERY Welcome, Please Get in touch. There's No money in it, for any of us (yet), but it's cathartic and who knows what will happen.
----------------
We would Love even more listeners, please share and help out. We do this for the love of it. There's no Ads and it's free to listen, so why not?
Have a listen and enjoy. We welcome feedback and if you want to take part in the show, get in touch below.
Fancy supporting us and our quest for fun?
Please Become a Supporter and Sponsor us, we have no way to make a living right now. This podcast is made with love but we need to eat, any donation is very welcome. Thank you xx
Please Buy us a Coffee or Two if you've enjoyed the show, thank you (Yes, I'm Begging)
Buy Chris Doc Strange a Coffee or a Signed Copy of my Book "The Honest Hypnotists Guide"
Visit Doc Strange the Comedy Stage Hypnotist Bloke in a White Coat
Buy The Dude a Coffee and checkout his extra special mashups, heck, he can even make one just for you.
Find us on On Twitter @ChrisDocStrange and the Dude @HolyMole
Oh and if you would like an online knees up and laugh with friends around the World, then you can hire
Chris P Tee Magician as your Magical Zoom Party Host, the Party at Yours, Wherever that may be. Any Age, Anywhere in the World. Upto 100 Screens, Any Language (I can mime)
Also Available in Person for Covid Safe Entertainment throught the UK from May 17th, Book Now. (Vaccinated & Enhanced DBS)
Comments
(1)
To leave or reply to comments, please download free Podbean or